I think you could say I got "wowwed" the other day.
Remember that
blog I wrote
about the
Blue Door Boutique
? You know the cute little shop in Georgia that thankfully is online so I can lust over it everyday? You know the one that
has this dress
that I feel like I have to have?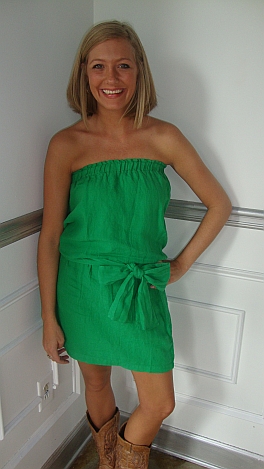 Well, after I wrote that blog,
I got a note from Kimberly
(the model of the gorgeous green dress!), thanking me for the kind words and asking me for my address.
She wanted to send me a little birthday "happy" from the Blue Door!
Now, I am not even quite sure how she found my blog, but somehow she did and immediately went above and beyond the call of duty to make me feel extremely important.
Sure, I am thinking Miss Kimberly must be an extremely nice person to start with, but there's no denying it was extremely good service as well.
Now, if you weren't quite sure what was the value of social media was yet, here is your lesson.
I found out about Blue Door from a
blog
, I then wrote about it in my blog, which some 100 people read. That alone could have been good enough because 100 more people knew about there store, but realistically who knows if I ever would have bought anything myself (I do have some self-control). But, then Kimberly found my blog (I am sure through some online social media tool) and wrote a simple note and
just like that she created a customer for life.
Not only have I checked the website everyday, BUT, I have also checked my mail for the past two weeks straight.
Last Friday, I got my birthday "happy" --- the nicest note and a gorgeous set of gold earrings that I think will go nice with this dress. :)
So, there are two points to this post.
One
, good customer service is simple but it goes a LONG way.
Two
, go check out the
Blue Door
; you are going to love it. And if you hurry, you still have time to send a belated birthday gift my way. JK :)
I think I will just buy myself a little "happy".