I used to be lucky.
Unfortunately, that luck seemed to disappear. I haven't won a trip to Puerto Rico or a $1,000 because a cow pooped on my square lately...it's been tough.
But, a girl like me doesn't give up
. And social media has made it much too easy to enter to win cameras, bags, cooking supplies, clothes and more, even though it hasn't made it any easier to win.
Regardless, I thought I would be nice (and maybe by being nice karma will join my side) and compile a list of all my current favorite giveaways for you. Good Luck!
1. Canon 5D MK II
I don't know how I found this site, but I have been entering for quite a few months now. At first glance, it's almost too good to be true (but it's legit, I promise), but almost every month
Scott Bourne
and
Photo Focus
give away a camera. In fact, this is his 5th or 6th this year...and no, I haven't won yet. But, I will keep trying. Even though I vow to one day buy one; I would much rather win one.
2.
Le Creuset Panini Press Set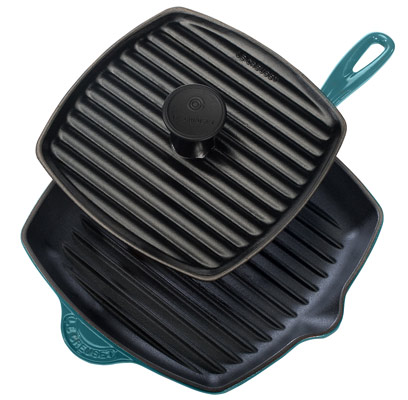 You might not know this about me,
but one of my many life-long goals is to own a sandwich maker.
I almost got up at 4 a.m. last Black Friday to pick up a $7 sandwich maker at Target. And I would have if Mark hadn't forced me to sleep instead.
This panini maker is not only fabulous because it is almost as good as a sandwhich maker, but it also is the
most gorgeous color.
In fact, if you're coming to my wedding and are looking for a present, it might be a good idea to enter. Now, it might technically be re-gifting, but I wouldn't care. Just an idea? :)
3.
Kalorik
Red Food Processor
When Mark and I started registering for our wedding, my mom had two pieces of advice. Register for a Kitchen Aid Mixer and register for a food processor. To be truthful, Mark didn't even really know what a food processor was, but I know how valuable these little suckers are, so of course it made our list. I think this will be perfect in my future kitchen. And, I also am glad I found
Two of a Kind Working on A Full House
...looks like a great blog!
4.
TOMS Shoes
I haven't entered this one yet (I didn't want to overload my Twitter followers!), but I am definitely going to. I really want a pair of TOMS Shoes and I think this would be a great way to finally step up and buy them. If you don't know about TOMS, take my word they are a great company to support. The founder,
Blake Mycoskie
, had this extremely generous idea in 2006 and it has flourished into such a successful company. For every pair of shoes purchased, a pair is donated. One for one. So simple, so easy, but so important. Even if you refuse to enter any contests, check out
TOMS
...it's a conscious, responsible company that is helping make our world a better place.
5.
Feed Sack Bag
I couldn't write a blog about giveaways without giving a shout out to my friend, Crystal.Cattle, who is giving away a Feed Sack Bag from The House That Ag Built.
After all, it was because of her blog that I have a gorgeous feed sack bag hanging on the chair behind me (and of course, my fiance who gave it to me for my birthday!).
I have decided there is no better way to get a conversation about agriculture going that proudly displaying it and these bags are a cute, convenient way to be ag proud.
Alright folks that is a wrap! If you have any good giveaways to share, make sure you leave a comment! Hope you win something...and I hope I win something more! ;)